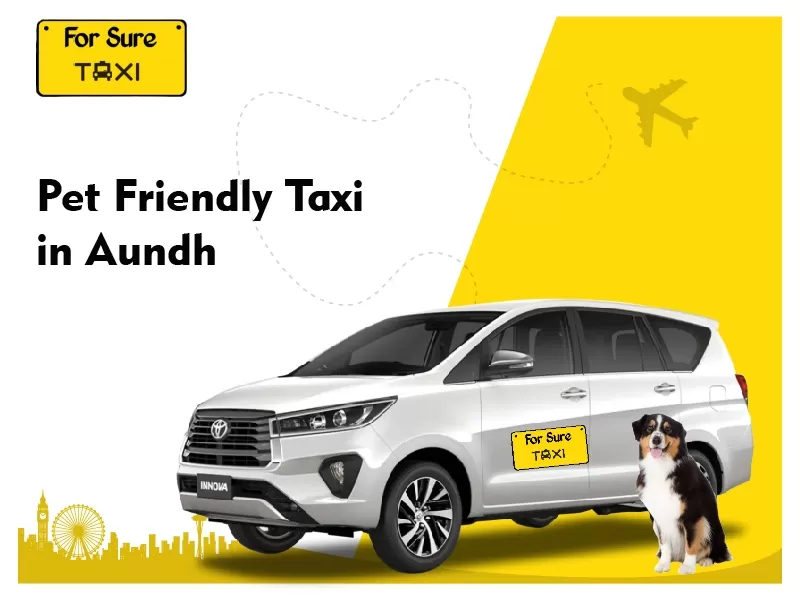 Pet Taxi Service Aundh
Whether you need one-way or round-trip pet transportation, we can help. We provide the best taxi fares for dog boarding. For one-way cab rentals in Aundh, we offer pet-friendly cabs at an affordable rate. Our experienced and polite chauffeurs provide pet taxi/cab rental services in Aundh. In just a few steps, you can find the best pet taxi in Aundh.
Pet Friendly Taxi in Aundh
We guarantee to get you the car of your choice. Rent a hatchback, sedan, SUV or luxury car from us in Aundh. It is convenient for you to take a taxi and rent a car in Aundh. It will also be cost-effective for you to get the most affordable possible deal on taxi and car rental services. We offer taxis and cabs that are pet-friendly in Aundh. You can rent a car for your pet in Aundh whenever it is convenient for you. Your loved ones can enjoy the most reliable pet friendly taxi in Aundh with us.
Pet Friendly Car Rental in Aundh
With our experienced drivers, you can expect a smooth ride. Aundh pet taxi service provides one-way transport for pets. Among Aundh's many car rentals, you can book a pet car rental service. Our fleet includes Swift Dzire & Etios, Wagon R & Celerio, Ertiga, Innova Crysta, Tempo Traveller, and more. Renting a pet friendly car from us is one of the easiest ways to get around Aundh. Hire the best Pet friendly car rental in Aundh for your little friends.
Pet Friendly Taxi Fare in Aundh, Rate Chart
There is no need to worry about pricing when you get a variety of services. We offer affordable pet-friendly vehicle rental rates. Your budget won't be burdened by the reasonable price for the most reliable pet taxi and car rental service in Aundh. Customers are completely satisfied with our services, which means we're getting positive feedback. Our customers don't have to pay any extra or additional charges. Book a taxi from the lowest pet friendly taxi fare in Aundh.
| | | | |
| --- | --- | --- | --- |
| pet-friendly-taxi-Aundh | Model | Per Km Fare | Capacity |
| AC Hatchback | Wagon R, Celerio or Similar | Rs. 10.50 | 4 seater |
| Premium Sedan | Swift Dzire, Etios or Similar | Rs. 12.50 | 4 seater |
| SUV | Ertiga, Innova or Similar | Rs. 14 | 6 seater |
| AC Tempo Traveller | TATA Winger, Bajaj, Force Tempo Traveller | Rs. 29 | 9, 12, 15, 18, 20 & 22 Seater |
NOTE: Charges may vary, as it depends upon the daily fuel prices.
FAQs About Pet Friendly Taxi in Aundh
Question. Do you have a variety of cars for pets?
Answer. We offer a wide selection of rental cars for your convenience. We offer a wide range of pet-friendly taxis for you to choose from.
Question. Do you provide a dog boarding taxi service?
Answer. For your pets, we provide a taxi service that ensures their comfort during transportation.
Question. Which is the best pet transportation service in Aundh?
Answer. With ForSureTaxi, you can get pet-friendly cab service at an affordable price. Despite our claims, our customer reviews are loudly proclaiming that we offer the most reliable pet transportation taxi and car rental service in Aundh. Select the car rental service that best suits your needs.
Pet Friendly Taxi/Cab Service from Aundh to Nearby Cities
Mumbai | Goa | Bangalore | Hyderabad | Ahmedabad | Aurangabad | Lonavala | Khandala | Khopoli | Shirdi | Shani Shingnapur | Mahabaleshwar | Satara | Solapur | Kolhapur | Buldhana | Ratnagiri | Lavasa | Jalgaon | Nagpur | Alibag | Pandharpur | Jejuri | Akkalkot | Bhimashankar | Sangli | Trimbakeshwar | Nashik | Ahmednagar | Akola | Kashid | Karad | Chiplun | Vasai-Virar | Andheri | Mumbai Darshan | Navi Mumbai | Panvel
Pune Taxi/Cab Useful Links