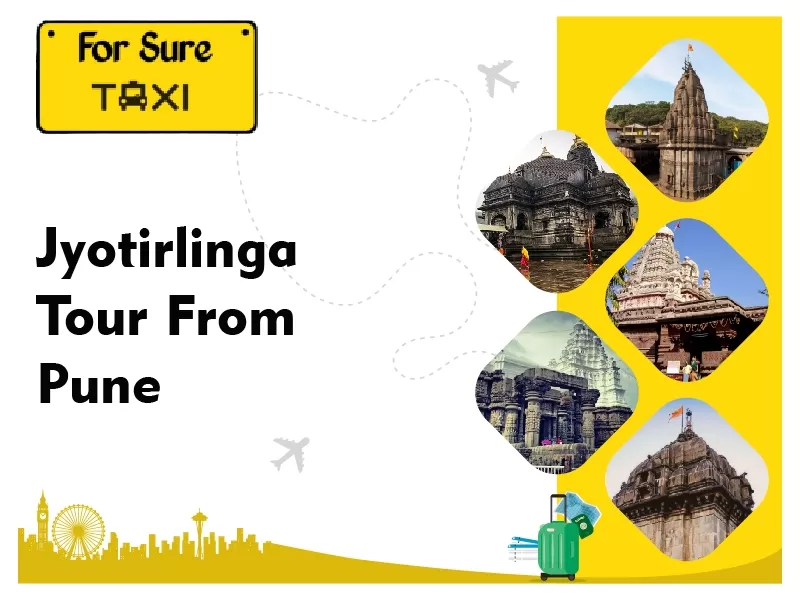 Maharashtra Panch Jyotirlinga Package Tour From Pune
Are you looking for a spiritual journey of sacred Jyotirlinga in Maharashtra? Then ForSureTaxi's Jyotirlinga Tour Package from Pune is the best tour package. We designed an affordable pilgrimage yatra to the 5 Jyotirlinga temple in Maharashtra. Jyotirlinga in Maharashtra are believed to be abodes of Lord Shiva and it is considered the most significant and holiest shrine in Hinduism. Book the Jyotirlinga yatra package from Pune with ForSureTaxi at the best price.
Jyotirlinga Tour Package From Pune
ForSureTaxi offers a Jyotirlinga tour package from Pune, which is a hassle-free way to explore Jyotirlinga in Maharashtra. We offer a reliable cab service with experienced drivers who have knowledge of city routes and the locations of the Jyotirlinga temples in Maharashtra.
Jyotirlinga Yatra From Pune
The Jyotirlinga tour package includes all the major Jyotirlinga temples in the state of Maharashtra, such as Bhimashankar, Trimbakeshwar, Grishneshwar, Nagnath and Vaijnath. We also provide meals, and sightseeing tour of Maharashtra to ensure that your journey is smooth and enjoyable.
Pune To Jyotirlinga Tour Maharashtra
While booking our Jyotirlinga tour package from Pune, you just need to take care of your comfort level. Our Jyotirlinga yatra from Pune is easy and hassle-free. Looking for cab or taxi service in Pune for Jyotirlinga visit? Simply visit our website www.forsuretaxi.com or call our customer service at +91-9552030300 to make your Jyotirlinga tour reservation. We offer transparent pricing without any hidden charges.
5 Jyotirlinga Darshan From Pune
Is Mahabaleshwar Jyotirlinga? The question is asked us many times. Mahabaleshwar is a famous hill station and pilgrimage site located in the Western Ghats of Maharashtra. There is a number of twelve Jyotirlingas in India, and Mahabaleshwar is not of them.
Grab the best deal on booking the Jyotirlinga tour package from Pune on ForSureTaxi cab service in Pune. We offer Panch Jyotirlinga darshan yatra at affordable taxi fares. Explore the 5 popular Jyotirlinga temples in Maharashtra.
Bhimashankar

Trimbakeshwar

Grishneshwar

Nagnath

Vaijnath
Jyotirlinga Tour From Pune Taxi Fare
| Vehicle Type | Model | Taxi Fare* |
| --- | --- | --- |
| Hatchback | Wagonr or similar | Rs. 11/km |
| Sedan | Maruti Suzuki Dzire, Honda Etios, Honda Amaze, Zest | Rs. 13/km |
| SUV | Ertiga, Innova, Innova Crysta, Xylo | Rs. 15/km |
| Tempo Traveller | 09 Seater, 12 Seater, 17 Seater, 21 Seater, 27 Seater Tempo Traveller | Rs. 24/km |
| Luxury Car | Ciaz, Honda City, Audi, Mercedes, BMW, Jaguar | Rs. 35/km |
Jyotirlinga Tour From Pune By Car
The tour of 5 Jyotirlinga from Pune by car is considered as the most sacred shrines of Lord Shiva. Our tour begins from Pune and takes you to the various Jyotirlinga temple in Maharashtra like Bhimashankar, Trimbakeshwar, Grishneshwar, Nagnath and Vaijnath.
Our team of dedicated taxi operators and taxi driver in Pune provides a memorable and stress-free travel experience. We offer flexible tour itineraries and customized tour packages that suit your needs and are at a budget-friendly price. Whether you're travelling with family, group or as an individual.
Jyotirlinga Tour From Pune For Family/Group & Senior Citizens
ForSureTaxi offers Jyotirlinga Tour from Pune which is designed for families, groups, and senior citizens. Those who wish to explore the 5 Jyotirlinga in Maharashtra. Our package includes transportation and accommodation, along with tour guide in Pune. Book now and visit the famous pilgrimage site and perform the Jyotirlinga darshan yatra.
Maharashtra Panch Jyotirlinga Tour Package