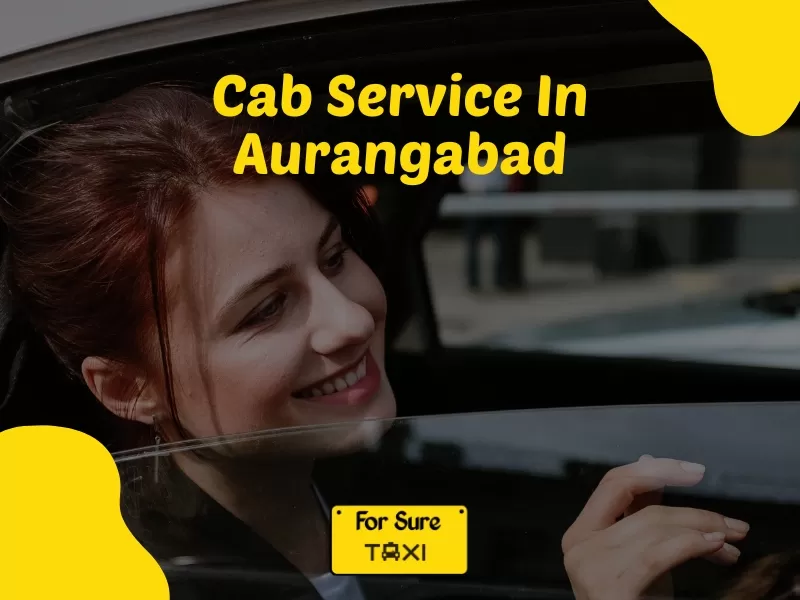 Aurangabad Cab Service
Are you searching for a dependable and pleasant Aurangabad cab service? Take a look at our Aurangabad Cab Service! In Aurangabad, we provide a variety of taxi booking choices, including airport transfers, city excursions, and outstation journeys.
Our cabs are well-maintained and operated by experienced and courteous chauffeurs who will guarantee a secure and trouble-free trip. We have you covered whether you need a cab for a work appointment, a family getaway, or just a short ride around town.
Cab Booking In Aurangabad
Our simple scheduling procedure is one of the most appealing aspects of our Aurangabad cab service. You can reserve a cab online or by phone, and we will confirm your reservation right away. Our customer support staff is accessible 24 hours a day, 7 days a week to help you with any questions or concerns you may have. Book a cab online in a few steps with the driver at a low cost in Aurangabad.
Cab For Rent In Aurangabad
We realise that each client has different travel needs, and we work hard to meet those needs with our flexible and customizable services. Depending on your income and tastes, you can select from a number of cab choices, including hatchbacks, sedans, SUVs, and luxury cars.
So, why delay? Book your Aurangabad cab for rent with us immediately and experience a stress-free trip!
Aurangabad Airport Cabs
ForSureTaxi provides Aurangabad airport cabs that will transport you to your hotel or any other place in the city if you arrive at Aurangabad airport and need a cab to your destination. Even if your flight is delayed, our chauffeurs will monitor it and be there to pick you up.
Aurangabad City Tour
Aurangabad metropolis Tour Bus and Aurangabad City Cabs are two modes of transit in the Indian metropolis of Aurangabad. The Aurangabad City journey Bus takes you on a guided journey to the city's most famous tourist sites, while Aurangabad City Cabs provide on-demand cab services for local transportation. Both services strive to make city travel more easy and available for both visitors and residents. Visit our website www.forsuretaxi.com to book Aurangabad city cabs at the best price for local rides, corporate rides and one way outstation trips.
Aurangabad Cab Contact Number
Aurangabad cab booking contact number is +91-9552030300 use this cab phone number for booking a cab or car service in Aurangabad. This number links clients to the scheduling centre of the service provider, where they can request a taxi for their transit requirements within the city. The phone number is a quick and simple method to find dependable transportation in Aurangabad.
Cab Hire In Aurangabad
Cab hire service is offered for entire and half-day periods. Customers can hire a cab for the entire day with "Full Day Cab in Aurangabad," while "Half Day Cab in Aurangabad" allows them to hire a cab for a specific period of time, usually half a day. Both services offer a convenient and dependable way to tour the city's attractions or attend business meetings and engagements. Hire cab with driver at the best price only on ForSureTaxi.
Cab Price In Aurangabad
Cab rates in Aurangabad can differ depending on the type of car, distance driven, and length of hire time. ForSureTaxi offers the most affordable cab service in Aurangabad with driver.
| Vehicle Type | Model | Per Km Rate* |
| --- | --- | --- |
| Hatchback | Wagonr or similar | Rs. 11 |
| Sedan | Maruti Suzuki Dzire, Honda Etios, Honda Amaze, Zest | Rs. 13 |
| SUV | Ertiga, Innova, Innova Crysta, Xylo | Rs. 18 |
| Tempo Traveller | Ciaz, Honda City, Audi, Mercedes, BMW, Jaguar | Rs. 22 |
| Luxury Car | 09 Seater, 12 Seater, 17 Seater, 21 Seater, 27 Seater Tempo Traveller | Rs. 35 |
Best Cab Service In Aurangabad
Best Cab Service in Aurangabad - ForSureTaxi provides a variety of vehicles, such as sedans, SUVs, or minivans, as well as professional and experienced drivers who are familiar with the city's routes and attractions. To satisfy the varied requirements of its clients, the finest cab service in Aurangabad is anticipated to provide secure, comfortable, and affordable transportation choices.
Cab Rental in Aurangabad
Customers can hire cab rental services at the lowest taxi rates in Aurangabad and reserve a vehicle that meets their particular requirements and desires. Online cab rental services may provide customers with a variety of vehicles to choose from as well as the convenience of booking a cab from the comfort of their own homes or while on the go.
FAQ About Cab Booking Aurangabad
Question. Which is the best Cab hire service in Aurangabad?
Answer. On a daily, weekly, and monthly basis, ForSureTaxi provides taxi rental services from a variety of fleets. You can book a taxi in Aurangabad at a low cost. Book a taxi in Aurangabad at the most affordable prices with a driver.
Question. How much does it cost to rent a car in Aurangabad?
Answer. The cost of hiring a cab in Aurangabad is determined by the cost of cabs per km in Aurangabad. ForSureTaxi allows you to hire a taxi on a per-kilometre basis without incurring additional fees.
Question. Can I get a car for rent in Aurangabad?
Answer. We make it simple to rent a cab in Aurangabad. ForSureTaxi offers you numerous cab booking choices at pocket-friendly rates.
Question. How can I cancel the cab booking?
Answer. Because we understand that your plans frequently change at the last minute, we provide hassle-free change or cancellation of your cab bookings. You can modify or terminate your cab reservations on our website www.forsuretaxi.com or by contacting our Aurangabad cab contact number +91-9552030300.
Question. Why should I book a cab from For Sure Taxi?
Answer. For Sure Taxi is one of the top-rated and leading cab hire services in India. We guarantee that you will provide safe and private tips to our expert taxi drivers. We offer spotless, sanitised vehicles as well as high-quality services. Our Aurangabad cab drivers are highly skilled. We offer local and airport cabs at affordable prices.