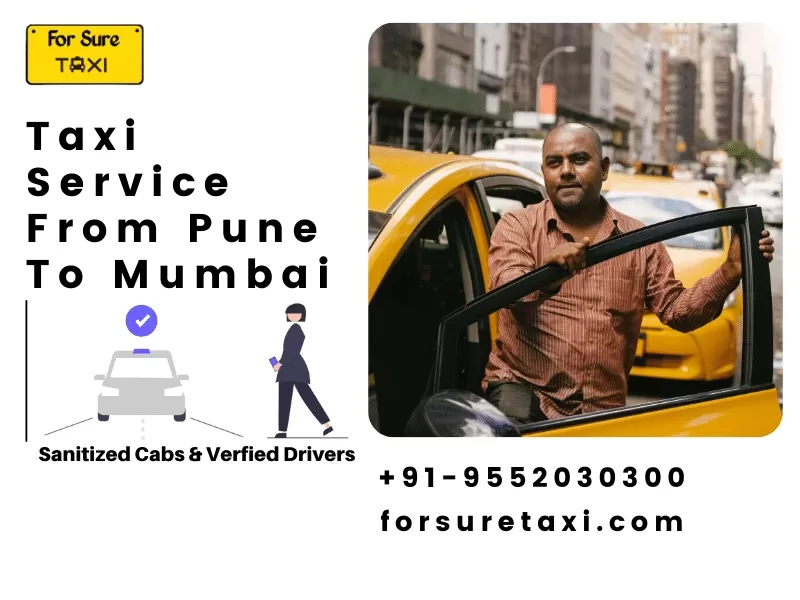 Hire One Way Taxi and Cab Rental from Pune to Mumbai at Affordable Prices
ForSureTaxi service is having a variety of cabs for their customers. Consider that you are a traveler or a tourist are comfortable to serve you with our best taxi services. We provide you the one way, round trip, airport transfer, etc. services on your doorstep on time from Pune to different cities according to your needs. Exploring Mumbai as a tourist cab hire is the best way to know about the city by being on-road journey.
As you know that the roads are too busy in India, we ensure you that you don't have to face the issue of getting stuck on the roads. Our drivers are experienced and know the networks of roads very well.
Hire a cab by ForSureTaxi - One Day from Pune
Pune is surrounded by Sahayadri hills. Having a mixed cultural and religious environment with historic architecture.
Pune is having the best and most valuable universities and educational institutions in India. When it comes to weather, it has a moderate climate for the year. For nature lovers and also for adventurers this place is heaven. There are a lot of shopping malls for shopping lovers.
The Airport of Pune has situated 12km approximately away from the city. Connected with the wide network of flights from and to Pune. Pune Airport is served by many major flights like Indigo, Emirates, and many others. Hotel President and Hotel Basera are some of the top hotels in Pune.
Airport Official Address is :
Lohegaon Airport, Pune International Airport |
New Airport Rd, Pune International Airport Area, Lohegaon, Pune, Maharashtra 411032
Know More About Mumbai for One Day Tour Package from Pune @ ForSureTaxi
Mumbai is the heart of Bollywood and the commercial capital of India. The nightlife of the city offers you to spend your whole life here, where you experience the best memorable moments. With lots of shopping malls tourist attractions and cafes that fill your mind with joy.
There is a number of luxury hotels in Mumbai such as Oberoi and Taj Hotel, near the Chhatrapati Shivaji Airport.
Beaches in Mumbai offers you the best seafood as well as vegetarian foods also, like vada pav and pav bhaji at Chowpatty. For a calm surrounding, you may also visit Gallery's Quaint Little Cafe for a cup of tea.
As the market is full of crowd, you can easily get the public transports to travel from one place to another. Many places are there to visit while exploring Mumbai like Marine Drive, Elephanta Caves, etc.
In the North of the city about 30km away the Chhatrapati Shivaji International Airport lies, and the Santa Cruz domestic airport is at a 4.5km distance. The major Railway station is Mumbai Central.
Airport Official Address is :
Chhatrapati Shivaji Maharaj International Airport |
Mumbai, Maharashtra 400099 | Inquiry Number - 02266851010
ForSureTaxi - Wide Variety of Car, Taxi, and Cab on Rent from Pune
We are having a number of cars including hatchback, sedan, Suv, tempo traveler, luxury ac bus. With ForSureTaxi you can book cars as per your need. AC and Non AC both cabs are available.
| Car Type | Rate/km | Min. km | Service |
| --- | --- | --- | --- |
| Hatchback | Rs. 13/ km | 100 km | |
| Sedan | Rs. 10/ km | 100 km | |
| SUV | Rs. 18/ km | 100 km | |
One Way Car Rental Price from Pune to Mumbai by ForSureTaxi- One Way Cab Hire
We are having the best prices for your ride from Pune to Mumbai and we ensure that your journey is full of comfort and can provide you the good memories with us.
| From | To | Distance | Cab Available | Price to Pay |
| --- | --- | --- | --- | --- |
| Pune | Mumbai | 150 km | Hatchback - Wagnor | Rs. 1,999 + Toll |
| Pune | Mumbai | 150 km | Sedan - Dzire or Etios | Rs. 2,399 + Toll |
| Pune | Mumbai | 150 km | Sedan - Honda City or Ciaz | Rs. 2,799 + Toll |
| Pune | Mumbai | 150 km | SUV - Ertiga | Rs. 2,899 + Toll |
| Pune | Mumbai | 150 km | SUV - Innova | Rs. 3,499 + Toll |
| Pune | Mumbai | 150 km | SUV - Innova Crysta | Rs. 4,499 + Toll |
| Pune | Mumbai | 150 km | Luxury AC Bus | Rs. 13,800 + Toll |
NOTE: These chargers are not fixed they may differ as fuel prices will increase or decrease, and additional charges of tolls and parking, will have to pay.
We Serve Taxi Services to Major Cities in India
Mumbai | Bangalore | Goa | Hyderabad | Ahmedabad | Aurangabad | Lonavala | Khandala | Imagica Khopoli | Shirdi | Shani Shingnapur | Mahabaleshwar | Satara | Solapur | Kolhapur |
Pune to Mumbai One Way Taxi and Car Rental Service
The distance between Pune to Mumbai is 150km by road which makes you tired, so we make sure that you'll not become uncomfortable by getting bored or not be exhausted. It would take about 2hours and 50minutes to reach Pune to Mumbai.
You Can Reach Us - ForSureTaxi
Visit our website @ www.forsuretaxi.com or call us at +91- 9552030300
Major One Way Routes for Cab/Taxi Hire from Pune
FAQ - Frequently Asked Questions
Basic
What are the services provided by ForSureTaxi?
We provide one-way rides, round trips, one-day tours, city packages, and self-drive car rental services.
What is the distance from Pune to Mumbai?
The calculated distance from Pune to Mumbai is 150km and it would take up to 2hour and 50minutes by road.
What are the charges for booking a car from Pune to Mumbai?
ForSureTaxi provides different prices according to the vehicles and also you have to pay the extra fair wages of tolls and parking too.
What is the best thing to do in Mumbai for free?
Mumbai is called the city of dreams and it is also called the heart of India. Here we offer a few things you can explore without spending a penny amount. If you're looking for things that you can do without spending money so, you are stuck at the right place on the web. We are providing you with a list of places where you can visit without putting any load in your pocket.
Visit the Iconic Gateway of India
Experience the calm night along Marine Drive
Unwind yourself at Chowpatty Beach
Spend some time in Oval Maidan
Purify your soul at Siddhivinayak Temple
Which airlines fly from Pune to Mumbai?
Major airlines such as Air India, Indigo, and Spice Jet have departure from Pune to Mumbai.
How many flights are there for Pune to Mumbai?
Every day there are 21 flights from Pune to Mumbai.
Booking Related
How do I book a car from Pune to Mumbai?
If you're looking to book a car from Pune to Mumbai, ForSureTaxi is here to serve you with their best services at budget-friendly prices with comfort and on-time services. Before booking, you can read our terms and conditions.
Can I book a specific model of car as per my need?
Yes, you can easily book a car as per your needs by informing us at +91- 9552030300. Sometimes it may occur a few problems to book a similar model, but we assure you to fulfill your needs.
About Convenience Charges
Are there any other hidden and additional charges?
No, we are not taking any additional charges are we have a very transparent and fair price policy which may lead the customers to visit again to us.
Cancellation Related
Can I cancel a car booking?
Yes, you can cancel your booking just by providing your valid reason for cancellation and you'll be refunded on the basis of our cancellation policy.
What is your cancellation policy?
You can read our refund and cancellation policy, which is very simple and clear as crystal.