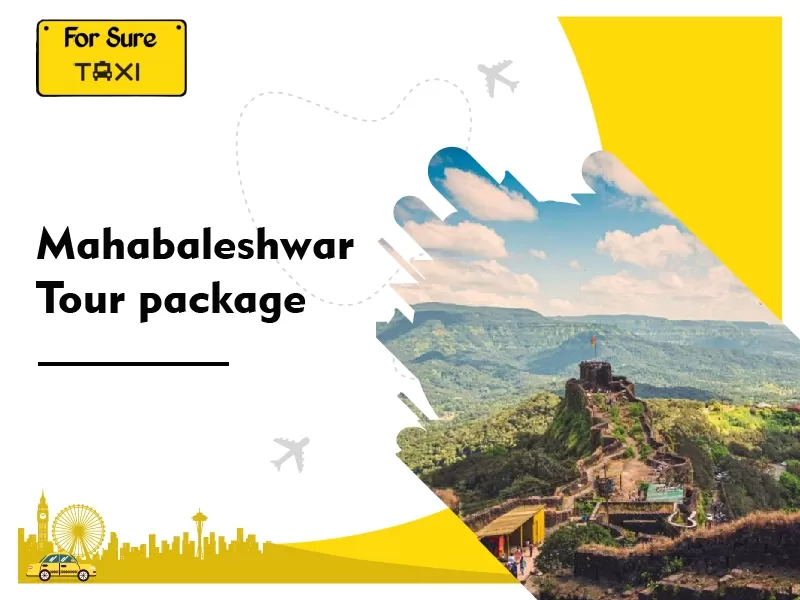 Mahabaleshwar Tour Package
Mahabaleshwar, a serene hill station nestled in the Western Ghats of Maharashtra, is a popular tourist destination known for its scenic beauty and pleasant climate. If you're planning a trip to Mahabaleshwar, ForSureTaxi offers a range of tour packages and reliable taxi services to make your journey hassle-free and enjoyable.
Our Mahabaleshwar Tour Packages are designed to cater to every traveller's needs, whether you're travelling with family, friends, or alone. Our tour packages include accommodation, transportation, sightseeing, and other essential services to ensure a comfortable and memorable trip.
Hire Mahabaleshwar Taxi Service
If you're looking for transportation within Mahabaleshwar, we offer affordable Mahabaleshwar Taxi Services with experienced drivers who have in-depth knowledge of the local routes and attractions. Our Mahabaleshwar Darshan Taxi Rates are competitive, and we provide transparent pricing to avoid any confusion or hidden charges.
Mahabaleshwar Darshan Taxi Rates
How Much Is Mahabaleshwar Trip Cost
The cost of a Mahabaleshwar trip varies based on various factors like the number of days, accommodations, and activities included in the itinerary. However, our tour packages and taxi services are designed to provide you with a cost-effective and hassle-free experience. Call our Mahabaleshwar tour operator +91-9552030300 via to book tour package at the best price.
Online Cab Booking For Mahabaleshwar
We also offer an easy online cab booking service for Mahabaleshwar, where you can book your cab with just a few clicks. Our online booking process is simple and secure, and you can make payments using various payment options.
Mahabaleshwar Tour Package For Couples
Our Mahabaleshwar Tour Package For Couples is the perfect romantic getaway to escape the hustle and bustle of the city and spend some quality time with your significant other amidst the serene ambience of Mahabaleshwar. Book now and create unforgettable memories with your loved one in this picturesque hill station.
Mahabaleshwar Tour Packages For Family
Our tour packages include accommodation, transportation, sightseeing, and other essential services that ensure a comfortable and enjoyable trip for your family. Whether you're looking for a budget-friendly option or a luxurious stay, we have tour packages to suit your requirements.
Mahabaleshwar Tour From Pune, Mumbai
If you're travelling from Pune or Mumbai, we offer Mahabaleshwar Tour Packages From Pune and Mahabaleshwar Tour Packages From Mumbai. Our packages include pick up and drop off services from your preferred location to Mahabaleshwar, along with comfortable transportation throughout the trip.
Tourist Guide In Mahabaleshwar
To make the most of your Mahabaleshwar tour, we also offer the services of a knowledgeable Tourist Guide In Mahabaleshwar. Our guide will take you to all the popular tourist attractions and provide valuable insights into the history and culture of the place.
Car Rental In Mahabaleshwar For Outstation
For outstation travel within Mahabaleshwar, we offer Car Rentals In Mahabaleshwar. Our fleet of well-maintained cars and experienced drivers ensure a comfortable and hassle-free ride. Whether you're travelling to a nearby attraction or exploring the town, our car rental services are the perfect solution.