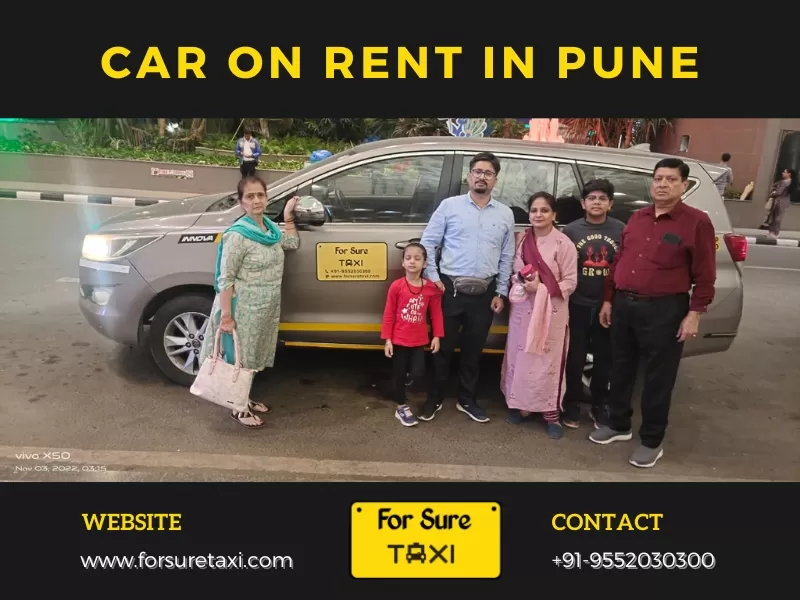 Car on Rent in Pune, Maharashtra
Car on rent is available in Pune and it is a much more affordable way to travel. If you are planning to visit Pune then you will find the car rental services very useful. This is best for travellers who will be moving in and out of the city. Car rental services are available at affordable prices and there are different options available for car rentals. Book a car on rent in Pune with ForSureTaxi at the cheapest cab price.
Driver on Hire in Pune
If you are looking for a private cab service that caters to your needs, then ForSureTaxi is the best taxi company in Pune for you. With our car rental services, you choose the car of your choice and can enjoy a smooth driver-driven ride to your destination. Get a Driver on hire in Pune at the lowest cost in Pune.
Car Rental Pune With Driver
With our driving services, we ensure that the customer is in safe hands at all times. All our cars are tested before being rented out on any bookings and we also have chauffeurs who are qualified and experienced in different areas. As a result, customers can be sure of their safety at all times when they hire a cab or driver with ForSureTaxi.com, Car rental Pune with driver is a trusted and more convenient way to explore the city on a day tour.
Car Rental Service in Pune
Business travellers can book a car from Pune International Airport and avail of the Pune airport pick-up and drop service with an on-time arrival. Our Car Rental service in Pune is reliable and budget-friendly. Explore Pune city with our Car Rental and experience a smooth and comfortable ride. Pune is one of the most populous cities in the Indian state of Maharashtra. Pune is the second-largest city in the state of Maharashtra. It is a popular tourist destination with many beautiful places, heritage sites and monuments. It is the important economical and industrial hub of India. Book a car rental service in Pune with multiple cab booking options.
Car Hire in Pune
People often need to get from one place to another in the city. To avoid traffic and parking hassles, many people choose to hire a taxi in pune. Car Hire in Pune is also a good option when renting a car is not convenient and you need a car on short notice. We offer cars of all sizes and ranges that suit your needs. Cars are available on rent in Pune. Hire car in Pune and experience a smooth & safe ride.
Car Rental Prices in Pune
| Vehicle Type | Taxi/Cab Model | Capacity | Per Km Taxi Fare |
| --- | --- | --- | --- |
| Hatchback | Wagonr or similar | 4 seater | Starts from Rs. 10 |
| Sedan | Maruti Suzuki Swift Dzire, Honda Etios, Honda Amaze, Zest | 4 seater | Starts from Rs. 12 |
| SUV | Ertiga, Innova, Innova Crysta, Xylo | 6 seater | Starts from Rs. 18 |
| Tempo Traveller | Force, Bajaj, Tata Winger | 8 seater, 9 seater, 11 seater, 17 seater, 21 seater tempo traveller | Starts from Rs. 29 |
| Luxury Car | Ciaz, Honda City, Audi, Mercedes, BMW, Jaguar | 6 seater | Starts from Rs. 40 |
Note: We do not provide self drive car on rent services in Pune because we are the best car rental company in Pune to rent a car with driver.
4 Wheeler on Rent in Pune
Hiring an SUV or a passenger vehicle just for a few hours can be a difficult task. In such cases, it is better to rent a 4 Wheeler vehicle. ForSureTaxi provides 4 wheeler on rent in Pune. However, you should choose with care. You can find the best 4 wheeler rental service in Pune at a budget friendly price.
8 Seater Car Rental in Pune
With a fleet of over 300 vehicles, we have the largest fleet of luxury cars, tempo travellers, hatchbacks, sedans and SUV on rent in Pune. We have something for everyone and we are confident that you will find the vehicle that fits your best need. Book 8 seater car rental in Pune at the cheapest price in Pune on ForSureTaxi.
Monthly Car Rental in Pune
The prices of cars can be a little surprising as they are dependent on a large number of factors. The key factor though is the year of the car. It is possible to get a fairly reasonable price on booking cars on the monthly basis. Find the best budget friendly, monthly car rental in Pune.
Pune Taxi/Cab Booking
Pune to Ashtavinayak Packages