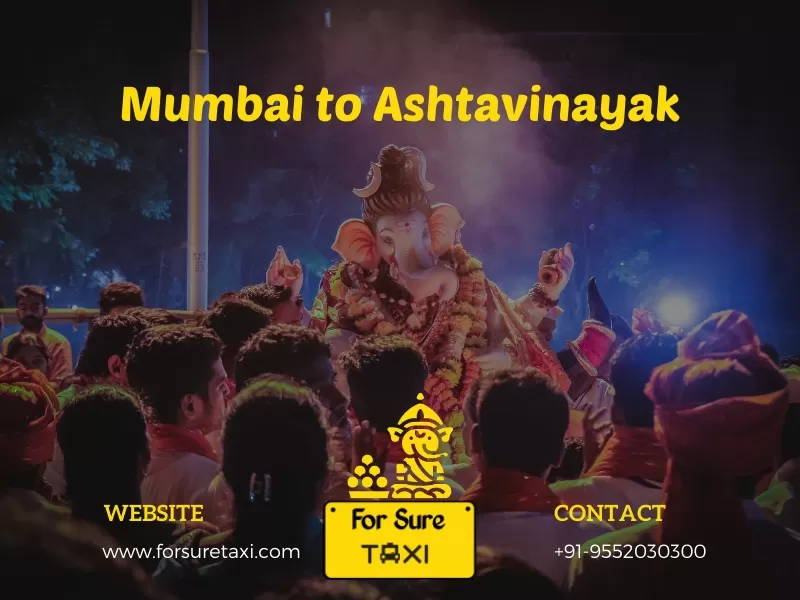 Ashtavinayak Tour
Ashtavinayak is a pilgrimage where devotees pray to 8 of the most popular Hindu Gods. You can find these 8 Gods at 8 different locations in the Ashtavinayak Temple in Mumbai. Here, you'll get Ashtavinayak 2 days tour package information, this yatra description will let you plan a convenient and affordable tour package from Mumbai.
Mumbai to Ashtavinayak Route
Ashtavinayak Tour Itinerary or Ashtavinayak Route from Mumbai:
Day 1: Morgaon (Mayureshwar) - Siddhatek (Siddhivinayak) - Theur (Chintamani) - Ranjangaon (Mahaganpati) | Night Halt at Lenyadri or Ozar
Day 2: Lenyadri (Girijatmaj) - Ozar (Vighneshwar) - Pali (Ballaleshwar) - Mahad (Varadvinayak) - Return Back to Mumbai
Mumbai to Ashtavinayak Distance and Time by Road
We offer Ashtavinayak Darshan tour from Mumbai at the lowest price guaranteed. Find the best tour package and darshan package for the pilgrim near Mumbai. Get the 2 Days and 1 Night Ashtavinayak Cab which costs the lowest fare of Rs. 9,100. Travelling from Mumbai to Ashtavinayak takes 235 kilometres of distance.
Tour Duration: 2 Days 1 Night
Total Distance: 235 kilometres
Mumbai to Ashtavinayak Price
Mumbai to Ashtavinayak Price and Rate

| Tour Package Details | Type of Rental Car | Total Package Cost (2 Days 1 Night) |
| --- | --- | --- |
| Mumbai to Ashtavinayak | Hatchback- Wagonr or similar | 9,100 |
| Mumbai to Ashtavinayak | Sedan- Maruti Suzuki Dzire, Honda Etios, Honda Amaze, Zest | 10,300 |
| Mumbai to Ashtavinayak | XUV- Ertiga, Innova, Innova Crysta, Xylo | 12,500 |
| Mumbai to Ashtavinayak | Luxury Car- Ciaz, Honda City, Audi, Mercedes, BMW, Jaguar | 14,300 |
| Mumbai to Ashtavinayak | Traveller- 09 Seater, 12 Seater, 17 Seater, 21 Seater, 27 Seater Tempo Traveller | 14,700 |
Note: Please Confirm the Prices before Booking Ashtavinayak Darshan Yatra Tour Package.
Ashtavinayak from Mumbai
Mumbai is the heart of Bollywood and the commercial capital of India. The nightlife of the city offers you to spend your whole life here, where you experience the best memorable moments. With lots of shopping malls tourist attractions and cafes that fill your mind with joy. Staying at hotels in Mumbai is a good option for tourists. We help provide you with the best and lowest rate tour packages from Mumbai to Ashtavinayak, book the Ashtavinayak darshan yatra for the 8 (eight) holy shrines of Hindu lord Ganesha and the most important pilgrims near Mumbai.
Mumbai to Ashtavinayak Tour Package | 2 Days Yatra by Car
Day 1: Departure from Mumbai
Our journey will start from your picking point at 4 O'clock in the morning. From Mumbai proceed to Morgaon after driving 68 km. Morgaon Shree Ganesha Mayureshwar Mandir is the starting point of our Ashtavinayak darshan yatra. After the darshan of Mayureshwar Dham, breakfast and then continue your journey from Morgaon to Siddhatek. After driving for 70 km you'll reach Siddhatek, perform darshan at Shree Ganesh Siddhivinayak at 12:30 PM. In the afternoon, have breakfast and later proceed to Rajangaon while driving for 50 km. Do darshan at Mahaganpati Temple of lord Ganesha at 6:30 PM and have your evening tea with some snacks after darshan. Then proceed to Ozar, after driving for 70 km, have Darshan of Shree Vighneshwar at 8:30 PM later proceed to Lenyadri and it takes up to 15 km to reach Lenyadri from Ozar. Dinner and Night Halt in Lenyadri.
Day 2: Departure from Lenyadri
Early morning, check out from the hotel in Lenyadri and proceed to Lenyadri Shree Girijatmaj Ganesha Temple which is situated on the hills, do darshan after climbing/ stepping through 350 stairs at 7:00 AM. After darshan, have breakfast and proceed to Vadgaon Kashmbeg for Ardhpeeth Darshan at 9:00 AM. It is situated 50 stairs away on the hills. The temple is one of the Swayumbhu Ardhpeeth Ganesh. After darshan, continue your drive to Palli and visit Shree Ganesh Ballaleshwar at 2:30 PM. Later have your lunch and proceed to Mahad Shree Varadvinayak Ganpati (45 km), do darshan at 5:30 PM and have your evening tea with some snacks and return back to Mumbai at 9:00 PM, after driving for 130 km approximately.
Mumbai Ashtavinayak Car Rental
ForSureTaxi is a website and a taxi company in Mumbai, Maharashtra. It offers online cab booking services in Mumbai for Ashtavinayak. Pilgrims can book a cab to Ashtavinayak and also to any other place, important pilgrims and temples in or near Mumbai. You can also book a taxi/cab from Mumbai. Mumbai to Ashtavinayak yatra tour Package is one of the most popular trip packages offered by us. We are the best Mumbai Ashtavinayak Car Rental with a number of valuable feedback from our customers. Book Ashtavinayak car rental service from Mumbai at the lowest price.
Mumbai to Ashtavinayak Package Includes
Mumbai to Ashtavinayak Packages- ForSureTaxi